"We had a great experience working with Marketing 4 Peers as they redesigned our website and optimized it for SEO. We are very satisfied with their work. They have a lot of knowledge in SEO and digital marketing in general which is very impressive. We would like to thank Ricardo especially!"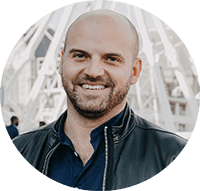 Edo Santek
Manager and guide at Rota Amsterdam
About Rota Amsterdam
Rota Amsterdam Turismo is a tour agency that started in 2017 mianly offering Portuguese tours in the Netherlands for Brazilian tourists. Since they started working with Marketing 4 Peers, they have also expanded to English speakers. Our Partnership have helped them to move towards their main goal, which is to be less dependent of paid traffic by organically attracting prospective customers.
Our Challenge
When we were approached by Rota Amsterdam they had a Wix website but for some reason some of its pages were been prevented from being index on Google. Furthermore, we also found that their website design could better communicate the agency high quality services and their company posivite attitude. In addition they hadn't done any SEO optimization.
Solution
Our first step to solve their website design was by creating a brand new website with WordPress. Instead of having their tours listed in one page we strategically created a page for each of their tours and a webshop. By properlly implementing SEO into their brand new website and by building links to their main tour pages, Rota Amsterdam has seen a 233% increase in organic traffic, which continues to grow. Besides, their website is present among the first three results or first page for nearly every tour related keywords for Portuguese speakers.